Allen Strength and Fitness Classes
Melt Calories. Get Fit. Have FUN! That's What Our Classes Are All About!
Crucible Krav Maga wants to help you get strong and fit, as well as preventing, dealing with and recovering from injuries.
We offer several different courses to improve your life whether your goal is to improve your athletics, take part in competition, or just get in the best shape of your life. Crucible Krav Maga in Allen is perfect for you.
Hardstyle Kettlebell and Strength Conditioning
We offer daily kettlebell classes at Crucible. These classes will mix kettlebell lifting, bodyweight exercises, and movement routines. The combination of these key strength components is that you will get stronger, use your body better and become mobile.
The primary goal of the Crucible Kettlebell and Strength Training program is to build a foundation of strength. This foundation can be used to make everything else you do better. You can be a fighter, athlete, or just get in great shape. Whatever it is, training with Kettlebells and increasing your overall strength and mobility can improve it.
Russian strongmen and military units have been using Kettlebell for generations to improve strength, muscular endurance and burn fat.
Kettlebell classes are a mix of strength conditioning, core fitness and endurance. When swinging a kettlebell, a relatively large number of muscles are used simultaneously, resulting in a full body workout that also improves mobility and core strength. Similar to how we teach our Krav and Strike classes, courses are usually taught in interval formats, resulting in bursts of high intensity spaced with breaks. This type of training results in a body conditioned for explosive movements, but with extreme control of the body throughout the motions. Again, kettlebell training is exactly the type of training needed to get extremely toned, burn fat, build muscle and directly improves our ability to do Krav Maga as well.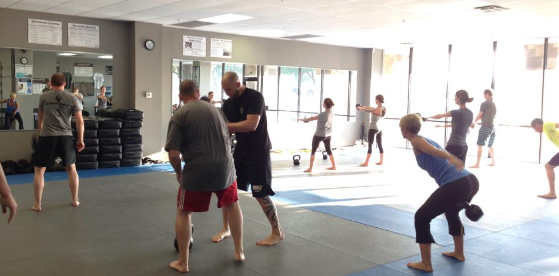 A kettlebell uses the muscles of the body in a completely different manner then traditional dumbbell workouts. The shape of the kettlebell (round with a relatively thick handle) plays an important role in getting such powerful results. The off-center weight of the kettlebell forces your body to engage additional stabilizers, which improves the entire range of motion. This allows the body to experience a unique development of the muscles while also undergoing significant increases in endurance and strength. The use of a thick handles improves hand and forearm function.
If you are looking for proof, the experts at Ace Fitness partnered with the fitness experts at the University of Wisconsin.
"We estimated oxygen consumption and how many calories they were burning aerobically, and it was 13.6 calories per minute. But we also measured the blood lactate, so anaerobically they were burning another 6.6 calories per minute," explains Porcari. "So they were burning at least 20.2 calories per minute, which is off the charts. That's equivalent to running a 6-minute mile pace. The only other thing I could find that burns that many calories is cross-country skiing up hill at a fast pace."
Researchers credit the brisk calorie burning to the fact that the kettlebell snatch workout is a total-body movement that is also done very quickly due to the interval-training format. "We knew it would be extremely intense," says Schnettler. "It's a quick workout, and you do get a big bang for your buck in a very short amount of time."
A Hardstyle Kettlebell workout can be designed for strength or endurance, but it is also a skill that requires correct technique, provided by trained and certified instructors. We want you to exercise safely, so Crucible has HKC, RKC and StrongFirst SFG certified instructors to guide you through the proper use of kettlebells.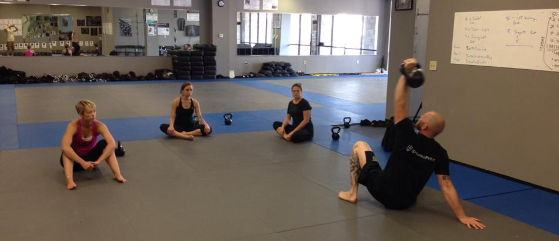 This program is also designed to prepare students for our new Amazing 12 Week Physique body transformation program. If you are considering this program, our kettlebell classes will perfectly prepare you for this new rigorous program.
Krav Maga Striking
Our Krav Maga program involves striking with punches, kicks, knees and elbows. Kickboxing is one of the best ways to get into shape, while learning real-world skills. Our program is not a cardio class. Taught by expert fighters, and integrated into our Krav Maga classes, we teach proper fighting technique, tactics and drills to take your fighting skills to the next level. Kickboxing allows you to learn proper striking with all parts of the body, as well as efficient body movement and foot work.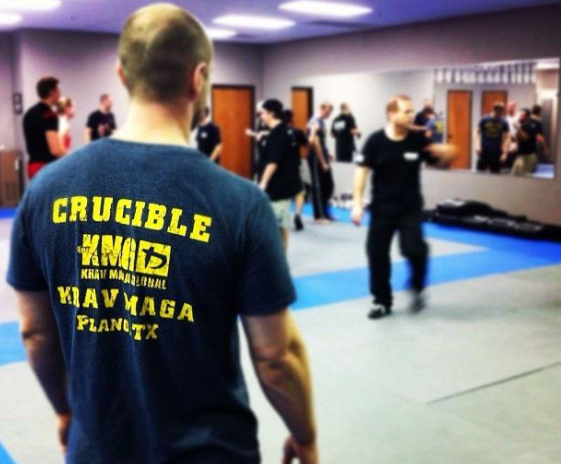 We have planned this course carefully to balance the need for real world fighting skills, and the need for a safe, fun course. You will sweat, work hard and earn your skills.
Primal Move
Students have used bodyweight movement for thousands of years to improve their core strength, flexibility, balance and mental focus. For new and existing students, we constantly see that coordination and movement are the number one areas that need to be improved. We have 3 certified Primal Move instructors to take this concept to a whole new level at Crucible.
Primal Move focuses on the movement that will make you a better fighter. This program is designed to integrate into your overall goal of being a better fighter by building a stronger foundation and improving your fighting capabilities and functional movement skills.
Primal Move will quickly improve your overall athleticism, and get your Krav Maga techniques get more fluid and crisp. You'll move better and FASTER! Whether you are new to fighting or a seasoned veteran, you will see immediate gains in your ability to execute the difficult movements often required under intense training.
Functional Movement Screen
To get the most out of your training, both you and your instructor need to understand your current range of motion. From this, we can create a plan that will allow you to train safely while identifying issues that could otherwise result in injury.
Schedule a Functional Movement Screen from Crucible Krav Maga in Plano today to get started!
GET STARTED TODAY!
To get more information about Plano Krav Maga, simply scroll up and fill in the request box on the right side of the page.